Borderlands' P.O.W.W.O.W. at United Methodist Church of Green Valley
When:
December 2, 2023 8:00 AM to 11:00 AM
Where:
United Methodist Church of Green Valley
300 West Esperanza Blvd.
Green Valley, AZ 85614
Contact:
powwow@borderlandsproducerescue.org
Services:

Limited Drive Up & Take Away (Reserve A Box)
In-person Drive-thru Style
Limited DoorDash Orders
Event Details
Description
Come out and do your part to help curb food waste. At our monthly Borderlands' P.O.W.W.O.W. events you can donate $15 (cash) to take home up to 70lbs of rescued produce. Participating in this program not only gets you an amazing haul of produce, but it also allows our non-profit to empty our warehouse and rescue the next million pounds of produce!

This location will operate as a drive-thru, meaning you can get in line, in your car. A volunteer will collect your (minimum) $15 donation, and another volunteer will load your car up with that weeks up to 70lbs produce box.

We are a redistribution program, please share the produce with neighbors, friends, family, or someone who's in need. Every produce box distributed helps supplement approximately 25 meals with a side of fruits and veggies, and reduces 5 pounds of methane gas emissions from Arizona landfills.

This location allows limited DUTA box-reservations & DoorDash orders.
Address
United Methodist Church of Green Valley
300 West Esperanza Blvd.
Green Valley, AZ 85614
Directions
Get detailed directions and more on Google Maps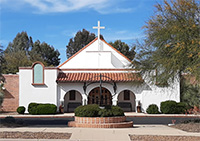 Actions
2023-12-02 08:00:00 2023-12-02 11:00:00 America/New_York Borderlands' P.O.W.W.O.W. at United Methodist Church of Green Valley In-person Drive-thru Style Limited DUTA Orders (Reserve a Box) Limited DoorDash Orders (https://borderlandsproducerescue.org/events/united-methodist-church-122023) United Methodist Church of Green Valley, Green Valley, AZ 85614 powwow@borderlandsproducerescue.org