Stacy's Lazy Tomato Sauce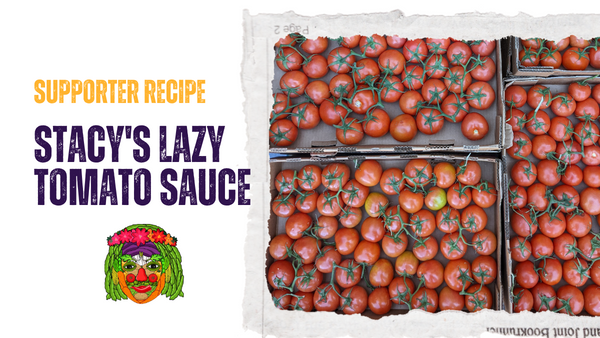 We love our Borderlands' P.O.W.W.O.W. supporters for so many reasons, not only do they help us crub food waste by making donations to support our nonprofit, but they also take the time to share tips and tricks with other supporters about how to eat all of the yummy produce!

This recipe is courtesy of Stacy.
Additional Comments / Suggestions from Stacy
I should add that I have made tomato sauce this way with every kind of tomato including cherry and grape!! I made a bunch of tomato paste (same recipe, just cooked it fooooreevver) and saved 1 TBSP portions made using a silicon ice ray and I'm still tapping that stash in my freezer.

I usually just leave it at this so it can be modified for anything, maybe a little salt. You can, however prep spaghetti sauce by adding garlic, onion powder, oregano, basil, some pepper flakes, and a wee bit of sugar (like a teaspoon).
Instructions:
1. Wash tomatoes (quick soak in weak vinegar water, then rinse).

2. Cut out the butts and squeeze out seeds by hand.

3. Cut in chunks if using large tomatoes

4. Cook on medium until juices are released, then turn to low and simmer about 90 minutes with no lid

5. Smooth out with immersion blender

***Season for use****