Chocolate Zucchini Bread Recipe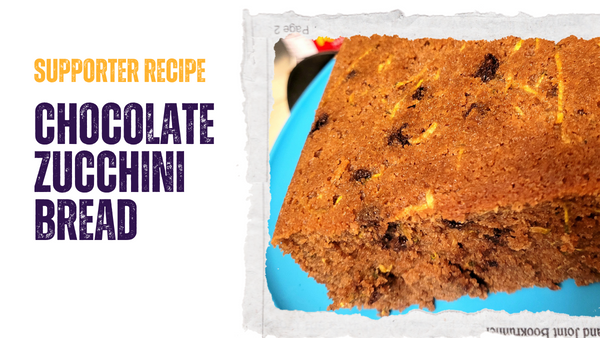 It's that time of the season where you are going to almost always end up with some zucchini, or another variety of squash, in your up to 70lb box of rescued produce. It's also around this time of year we start getting some complaints about all of the squash, so we thought we'd share this supporter inspired recipe for a chocolate zucchini bread.

If you have your own recipe, please leave a comment for us below. We know our supporters would love more ideas of what to do with their rescued produce!
Ingredients:
- 1 1/2 cups Kodiak Power Cake Flapjack & Waffle Mix* - 1/2 cup cocoa powder**
- 1/2 cup sweetener of choice
- 2 eggs 1 cup zucchini, shredded and squeezed out
- 1/2 cup applesauce
- 1/3 cup butter, melted***
- 1/4 cup milk
- 1 teaspoon vanilla extract
- 1/2 cup chocolate chips
Instructions:
1. Preheat oven to 350 degrees. Grease 5 x 9 loaf pan.

2. Mix dry ingredients together in a large mixing box (pancake mix, cocoa powder, and sweetener of choice).

3. Whisk the eggs, applesauce, melted butter, milk, and vanilla extract in a separate bowl. Mix in zucchini.

4. Combine wet and dry ingredients together until well-mixed.

5. Add chocolate chips to the mixture.

6. Bake for 25 to 30 minutes or until a toothpick into the center comes out clean.

*Could use other pancake/waffle mix but the texture may vary
**Pictured loaf used a Mexican chocolate drink mix in place of cocoa powder as that is what I had in my pantry.
***Let it cool before mixing together with eggs and milk.
****Bake for 16 to 18 minutes if making chocolate chip muffins instead.