Favorite Eggplant Caponata Recipe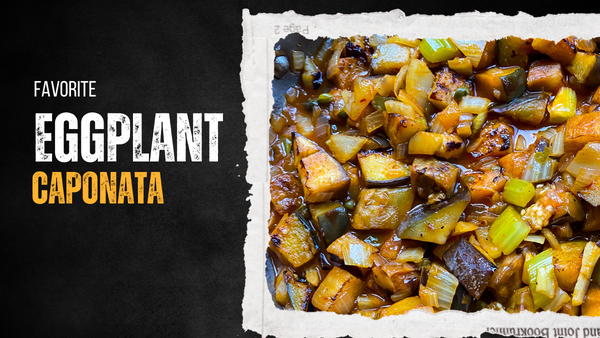 Serve as part of an antipasto platter or over spaghetti squash, zucchini noodles, or pasta of your choice as a meal.

Eggplant Caponata is a traditional Italian dish that is rich in important vitamins, minerals and fiber. It consists of eggplant, tomatoes, capers, olives and onions that are slowly cooked in an olive oil-based sauce. This meal offers a variety of health benefits, including weight management, improved digestion, cardiovascular health and protection against some types of cancer.  

The combination of healthy fats from the olive oil, the omega-3 fatty acids from the capers and the antioxidants from the tomatoes in Eggplant Caponata can all lead to improved cardiovascular health. These protective nutrients help to keep cholesterol levels in check, reduce inflammation and lower blood pressure

This recipe is courtesy of Red Mountain Nutrition. Often there is a disconnect when it comes to living a healthy lifestyle. We know what's good for our bodies, but we don't always act accordingly. Red Mountain Nutrition aims to mend the gap between knowing and doing, by catering to each individual's unique circumstances. Whether it is weight management, developing a healthy relationship with food, or improving a health condition; Red Mountain Nutrition offers a variety of services and packages designed to meet your needs.
Ingredients:
- 2 Tbs olive oil
- 1 onion, diced
- 2 red bell peppers, diced
- 1 eggplant, peeled and sliced into 1-inch cubes
- 2 zucchini, chopped
- 6 cloves garlic, minced
- 1 1/2 cup crushed tomatoes (or fresh chopped)
- 1 tsp dried oregano
- 3 Tbs capers, drained
- 1/4 cup kalamata olives, pitted
- 1/4 cup fresh parsley, chopped crushed
- red pepper, to taste
- salt, to taste
Instructions:
1. In a large sauté pan, heat olive oil over medium-high heat. Sauté onions and peppers until they begin to soften; 1-2 minutes. Add garlic and sauté for another 1-2 minutes until garlic begins to become fragrant.
 
2. Add eggplant and zucchini and sauté for 2-3 more minutes, until eggplant begins to soften.  

3. Add the tomatoes and oregano. Stir to combine. Let simmer for 5 minutes.  

4. Stir in capers and kalamata olives.  

5. Season with salt, pepper, and crushed red pepper flakes (if using).

6. Garnish with parsley or favorite fresh herbs.