Homemade 24 hour Dill Pickles (No Canning Needed)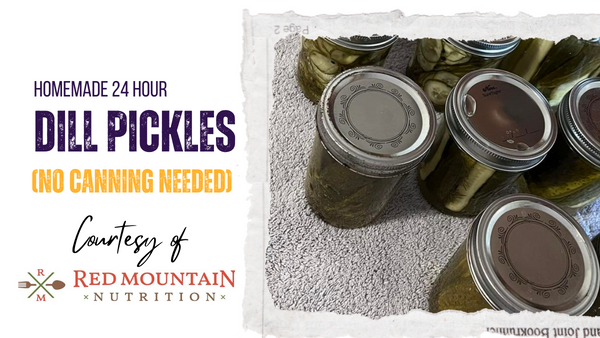 Make your own dill pickles with this simple method that let's you soak sliced cucumbers with the addition of your own natural ingredients. This mixture can sit on the countertop or in the refrigerator for 24 hours while the flavors infuse, and then they're ready to enjoy!

This recipe is courtesy of Red Mountain Nutrition. Often there is a disconnect when it comes to living a healthy lifestyle. We know what's good for our bodies, but we don't always act accordingly. Red Mountain Nutrition aims to mend the gap between knowing and doing, by catering to each individual's unique circumstances. Whether it is weight management, developing a healthy relationship with food, or improving a health condition; Red Mountain Nutrition offers a variety of services and packages designed to meet your needs.
Ingredients:
- 1 Cucumber
- 1/4 cup Fresh Dill Sprigs (lightly packed) (Or 1 Tbl Dried Dill)
- 3 Garlic Cloves
- 2 tsp Kosher Salt
- 1/4 tsp Whole Peppercorns (about 25)
- 3 Tbl White Vinegar Distilled or Filtered Water Quart
- Canning Jar with a Lid (I prefer the wide mouth type)
Instructions:
1. Begin by slicing your cucumber. I like to slice an average sized cucumber into 16 spears. Also finely chop the garlic cloves.
2. Place about half the fresh dill and some of the chopped garlic into the bottom of the quart canning jar.
3. Add the cucumber slices to the jar. You can add more of the dill during this step too.
4. Then add the remaining dill and garlic, and also add in the salt, peppercorns, and white vinegar.
5. Pour the filtered water over everything, adding just enough water to cover the contents of the jar.
6. Screw a lid onto the jar and then let the jar set for 12 hours. I just do this on my countertop, but you could also do this in the refrigerator.
7. After 12 hours, give the jar a little shake to mix things up a bit again, and then turn the jar over (make sure the lid is on tight!) and let it set for another 12 hours in this upside position.
8. At this point your cucumber slices should be infused and are ready to be enjoyed as pickles. Keep the jar in the refrigerator as you use up your pickles.