Supporter Inspired Spaghetti Squash Enchilada Bowl Recipe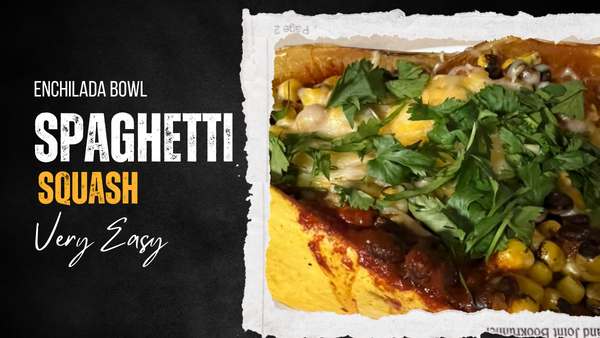 Nutrition is an important part of maintaining a healthy lifestyle, and one of the best ways to ensure you're getting all the essential nutrients you need is to incorporate a variety of vegetables into your weekly meals. The Spaghetti Squash Enchilada Bowl is a delicious and nutritious way to do that! This flavorful dish is packed with vegetables, including spaghetti squash, onion, corn, and black beans. Spaghetti squash is a low-calorie and fiber-rich vegetable, making it a great addition to a balanced diet. On top of that, this dish provides excellent sources of protein, fiber, and vitamins and minerals such as vitamin C, iron, and calcium.

The Spaghetti Squash Enchilada Bowl is sure to be a hit with the whole family. It's an easy and flavorful meal that can be on the table in under an hour. Enjoy the flavor and reap the benefits of this nutritious meal!
Ingredients:
-1 spaghetti squash
-1 teaspoon of vegetable oil
-1 can of enchilada sauce
-1-1/4 cups cooked black beans
-1/2 cup sweet corn
-1/2 onion, finely diced
-1 teaspoon cumin
-1 teaspoon chili powder
-1/2 cup shredded cheese
Instructions:
1. Preheat oven to 375 degrees F. Cut spaghetti squash in half and remove seeds. Rub cut sides with vegetable oil and sprinkle lightly with salt. Place cut-side down on a baking sheet and bake for 30 minutes, or until squash is softened.

2. Heat a skillet over medium heat. Add onion, cumin, and chili powder, and sauté until onion is softened.

3. Add black beans, corn, and enchilada sauce, and simmer for 10 minutes.

4. Remove spaghetti squash from oven and use a fork to scoop out flesh. Discard skin.

5. Divide squash evenly between two bowls. Top each bowl with half of the bean mixture and sprinkle with cheese.

6. Serve hot. Enjoy!