Taste the Freshness of Gazpacho: Tomato and Cucumber Soup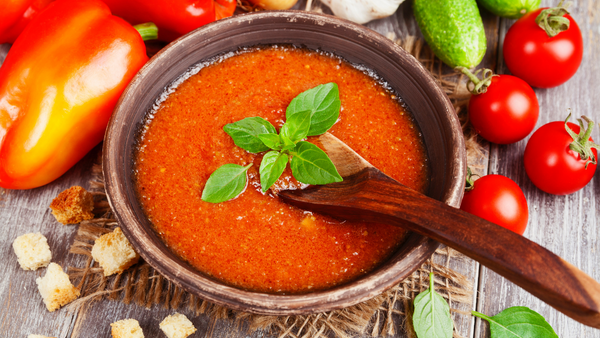 Health Benefits of Gazpacho
Gazpacho is one of those classic dishes that never gets old. It's the perfect meal for an Arizona winter — light, cool, and loaded with fresh, flavorful ingredients. Not only that, but it's also incredibly healthy. Here's a closer look at what gazpacho is, its health benefits, and a delicious recipe you can try at home.

What is Gazpacho?

Originating in Spain, gazpacho is a cold tomato-based soup made with a variety of fresh vegetables, such as bell peppers, cucumber, and onion. It can also contain olives, garlic, herbs, and spices. Many variations of gazpacho exist, but the traditional recipe is simple and delicious.

Health Benefits of Gazpacho

Gazpacho is incredibly healthy. It's high in vitamins A and C, as well as antioxidants and other important nutrients. The tomatoes and other vegetables provide a good source of dietary fiber, which helps keep your digestive system running smoothly. Plus, the broth is low in fat and calories, making it a great choice if you're watching your weight.
Gazpacho Recipe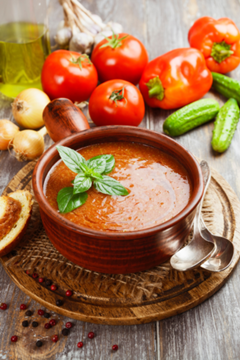 Ingredients:

-3 large tomatoes, peeled and diced
-1 green bell pepper, diced
-1 red bell pepper, diced
-1 cucumber, peeled and diced
-1 red onion, diced
-2 cloves garlic, minced
-1/4 cup olive oil
-2 tablespoons white wine vinegar
-1 teaspoon salt
-1/2 teaspoon black pepper
-1/2 teaspoon dried oregano

Instructions:

1. Combine all of the vegetables in a blender, and mix.
2. In a separate bowl, whisk together the olive oil, white wine vinegar, salt, pepper, and oregano.
3. Pour the dressing over the vegetables and stir to combine.
4. Chill for at least an hour in the refrigerator.
5. Serve the gazpacho cold with crusty bread, olives, and croutons.

Gazpacho is a tasty and healthy dish. With just a few ingredients and minimal effort, you can whip up this classic Spanish soup in no time. Enjoy!