About Us
Borderlands Produce Rescue was founded in 1996 by Yolanda Soto, a native of Nogales, Arizona. Growing up in the border community of Ambos, Nogales Yolanda was well aware of the enormity of the produce industry in her local community, as well as the food waste generated as a result of produce being disposed of in the landfill. Each year nearly a third of all produce consumed in North America is processed through this small border community. While many people sought to address the vast food insecurity throughout Arizona, very few people were mindful of the immense amounts of consumable produce which would be sent to the Rio Rico (AZ) landfill each year that could be a part of the solution. Yolanda saw it differently.
At the distributor level of the produce industry there is approximately 5% of total produce which goes to waste. In most cases this produce is discarded purely for cosmetic flaws or due to the consumer driven demands, regardless of the fact that the produce is still perfectly consumable. When this produce is sent to a landfill and left to rot it has a drastic harmful effect on our climate due to the gasses emitted during the process. This in tandem with the nutrients from the produce not even being used for fertilizer results in a lose-lose situation.
Our Mission
We believe in the inherent right of people to eat nutritiously, and we believe everyone has the right to live on a clean planet. It was impossible for Yolanda to sit back as she witnessed produce which was nurtured and grown to help sustain people instead be thrown out and actually harm the planet. This is why we do the work we do each and every day. We ensure that our community is able to access fresh, nutritious produce, doing our part to curb food waste, and at the same time helping save the planet. It is the responsibility of each of us to do what we can to help address these issues and leave the planet in a better place than where it is now.
Our History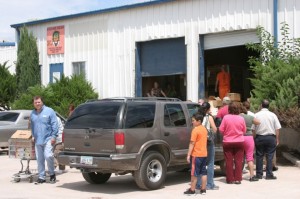 Borderlands Produce Rescue can trace its history back to the early 1990's. In 1992, the Mariposa Community Health Center (MCHC) formed a committee to explore the possibility of starting a food bank to provide assistance to the hungry in Santa Cruz County.
The following year, the MCHC met with the Community Food Bank in Tucson to ask for help with publicity and fund-raising. Community Food Bank provided MCHC with $10,200 to pay rent on a small warehouse in Nogales, Arizona. A grant from FEMA allowed us to provide emergency food boxes.
In May 1994, Community Food Bank took over the management of the Nogales food bank from MCHC, and decided that the food bank, which they named Borderlands Food Bank, should become a non-profit entity. A Board of Directors was formed, and in January 1995 Yolanda Soto was appointed Executive Director. Borderlands remained under the management of Community Food Bank until 1996, when at the urging of Ms. Soto, it became an independent entity. In August 1997, Borderland Food Bank received its 501(c3) designation.
Over time, Borderlands has outgrown its original facility, and name. Now known as Borderlands Produce Rescue, we currently lease a 13,000 square foot warehouse in Nogales. The facility has two cold rooms to better maintain the integrity of the donated product.