Tabbouli Salad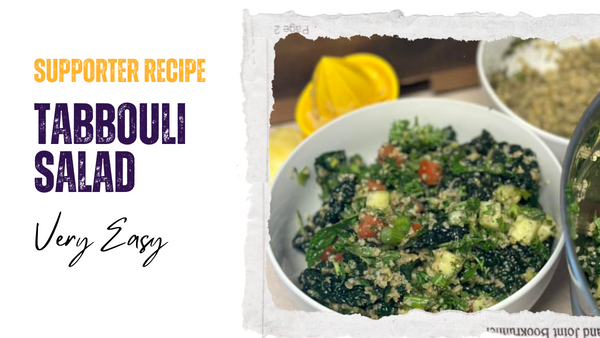 You can build this recipe according to preference. You may do equal parts of all vegetables listed. Except mint/green onion. You may prefer 1/4 to 1/2 half measurement in comparison.
Ingredients:
Ingredients: All veggies chopped.

- Tomato
- Green onion
- Cucumber
- Fresh mint
- Fresh parsley
- Bulgar
Instructions:
Put plain Bulgur in bowl, add garlic salt and dry parsley flakes. Mix then add boiling water to just a quarter inch over bulgur. Cover and let stand for 30 min.

Mix all together with Bulgar. Squeeze juice of two lemons, add a few table spoons olive oil and sprinkle with salt. You can really season with the lemon/olive oil/salt according to your taste.

You can then choose to eat with kale or you can scoop with fresh romaine. It's one of my favorite foods ever. Enjoy!