Borderlands' Produce On Wheels With-Out Waste (P.O.W.W.O.W.)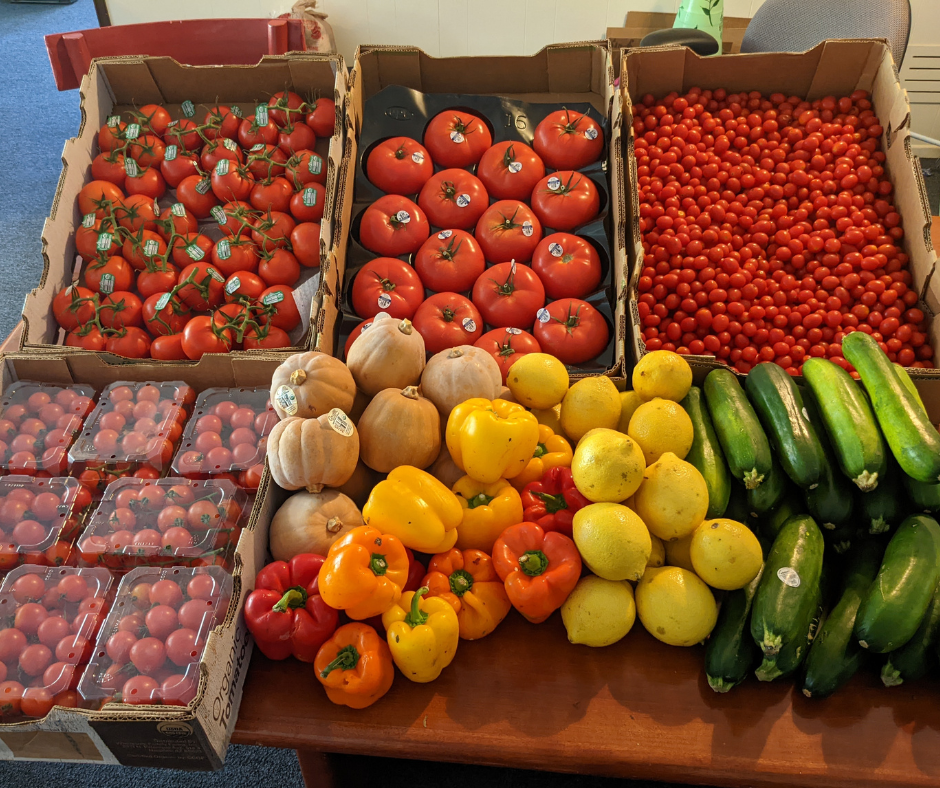 Borderlands' P.O.W.W.O.W. serves as our largest Arizona redistribution program. Each produce season, from November through August, our organization partners with 30+ non-profits or community groups to host Saturday market locations. At each of our Borderlands P.O.W.W.O.W. event supporters are able to make a cash contribution of at least $15 to support our non-profit, and as a thank you, take home up to 70lbs of rescued produce.
Borderlands' P.O.W.W.O.W. program is at its heart a community outreach initiative. Participating in this program, either as a supporter, a volunteer, or both, is an easy way for each of us to do our part in curbing food waste. Our primary mission, as Borderlands Produce Rescue, is to save mother earth by ensuring good, nutritious produce is not dumped in the landfill. With your participation, through this program, we are able to find a good home for our produce, and also raise contributions to support our continuing work.
Your donations and contributions make it possible for us to rescue, recycle and redistribute 20 to 30 million pounds of produce every season. With your contributions at our weekly Borderlands' P.O.W.W.O.W. events we are then able to transport, warehouse and redistribute another 400lbs of produce. Your donations at these events are especially critical to covering the cost of our transportation; each season we will drive an average of 100,000 miles, across Arizona, to the many Borderlands P.O.W.W.O.W. host locations.
Borderlands' P.O.W.W.O.W. Style & Additional Services
We currently offer three forms of redistribution for our 9th Season of Borderlands' P.O.W.W.O.W. Your location may operate as a drive-thru, a farmer's market or only DoorDash. Many of our drive-thru locations also offer the opportunity for you to either reserve a box (DUTA) for pick-up, or place a limited number of DoorDash orders for delivery. Take a moment to review what each style entails so you are ready for Saturday!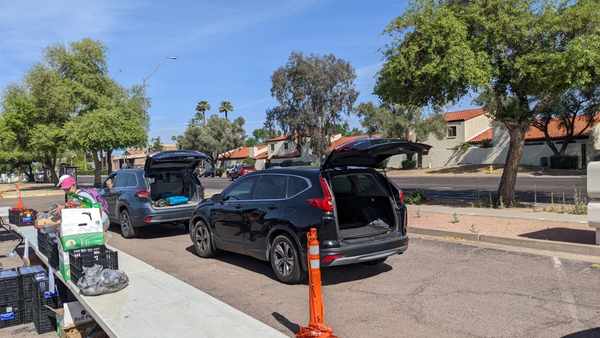 Drive-Thru Style
A majority of our locations will operate as a drive-thru. This means exactly what it sounds like; you never have to get out of your car to participate. Simply drive out to the location, get into the car line and wait for your turn. Once you reach the front of the line a volunteer will collect your (minimum) $15 contribution.

Depending on where you want your produce, pop your trunk or open your rear doors. You will then be directed to the next station where another team of volunteers will load your car with your up to 70lbs of rescued produce for that week.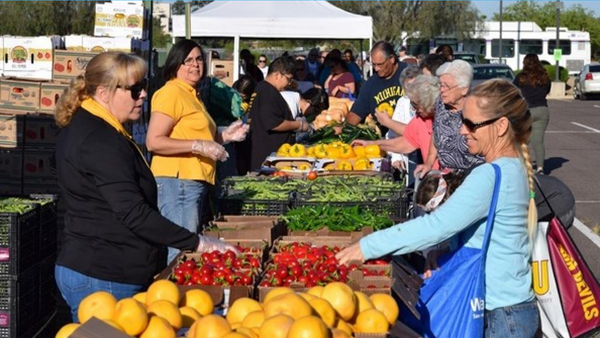 Farmer's Market Style
Prior to the pandemic all of Borderlands' P.O.W.W.O.W. locations operated in a traditional farmer's market style. This season, only a few of of our locations are using this style of redistribution. It is optional, but if you participate in one of these locations we do suggest you bring a wagon, or a strong kid to help you carry your produce!

Our farmer's market locations require you to park your car and get out and into the supporter line. When you reach the front of the line a volunteer will collect your minimum $15 donation. You will then be directed to a series of tables set out with varieties of produce on display. Each 'station' will have a volunteer who will tell you the quantity of each produce item you are able to get. You will be able to select your own produce and add it to your produce box.
Limited DoorDash Orders
This season we are partnering with DoorDash to provide FREE deliveries. The same $15 contribution will get you an up to 50lb box of rescued produce. Many of our supporters are unable to leave the house, or do not have transportation to attend a physical redistribution event, so we hope this service will be helpful to them.

You Must Pre-Register to See If You Qualify for Door Dash
To take part in this service you must live within 10 miles of a Borderlands' P.O.W.W.O.W. participating location. You can find a list of our participating locations on our event calendar. Once you pre-register we will check to see if you qualify, and if you do you will recieve a link to place your Borderlands DoorDash order.
Limited DUTA Reservations
You will notice on our events calendar some locations allow for a limited number of DUTA orders. This is our Drive Up & Take Away service, or otherwise known as our box reservation service. Each week we allow for a limited number of people to make a donation online, and reserve your up to 70lb produce box. Reserving a box simply means you will be guaranteed a box, even if we run out of certain varieties of produce. You MUST pick-up your box at least an hour prior to the location closing, or you risk forfeiting your reservation.

To place a DUTA order simple go to the events page, find the location you want to participate in, and click on the green reservation link for instructions.
Do Your Part to Help Curb Food Waste